YouJustRun podcast is an effort to bring experience and advice from various runners, cyclists, coaches and other fitness enthusiasts to the masses. YouJustRun provides technical and operational solutions to all kinds of racing events across India. This podcast is hosted by YouJustRun Co-Founder Ashish Saboo.
Episodes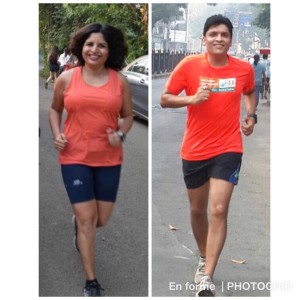 Saturday Jul 18, 2020
Saturday Jul 18, 2020
In this episode, conversation with an old friend Rahul Agrawal and his wife Radha Agrawal.
Rahul Agrawal, 48, a logistics professional for the past 25 years, is a devoted and passionate runner since 2007. For him challenges are a part and parcel of life, which are to be faced with grit and an unyielding strength. Rahul has done several half and full marathons, 12 hr, 24 hr and 100K run across India. He has been pacer and a brand ambassador in multiple events as well. His zeal for running nudges him to constantly motivate people to take up marathon as a lifestyle change for both physical and mental well-being. For Rahul, running is the biggest stress-buster. It is a kind of Nirvana to him. 
Radha Agrawal, is a runner, cyclist and nutrition expert. In addition to running several half and full marathons, she has completed 200, 300 and 400 Km Cycling. A sports and fitness enthusiast for years, she has converted her passion into profession. She has established En Forme, a personal health and wellness clinic. She also conducts various fitness workshops and corporate  training programs.